You might have seen us there on social, but this past month we partnered with Opportunities New Brunswick to attend BigCommerce Partner Day in Austin, Texas.
So if you haven't heard of BigCommerce, you will. With Shopify being a Canadian company and marketed heavily in Canada, you don't often hear about the other players. However, BigCommerce is certainly a player and they are taking over the E-Commerce game. Fast.
As Atlantic Canada's only certified BigCommerce partner, we were stoked to get an invite and even happier we were able to make the trip.
So what did we learn?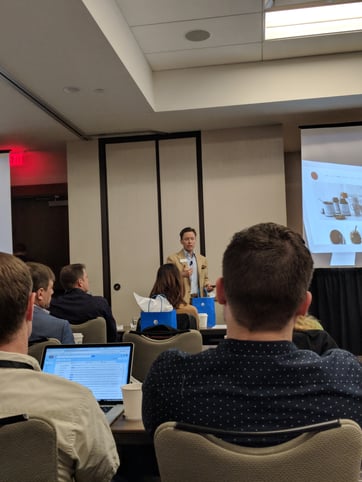 1. BigCommerce is definitely a disruptOr.
With massive growth over the last two years, they have officially overtook Shopify and Shopify Plus as the mid-market choice for E-commerce platforms on the market today. How have they done this? Unlike the competition BigCommerce opens up their platform so there are no restrictions.
What is a disruptor? - "Disruptive innovation is a term in the field of business administration which refers to an innovation that creates a new market and value network and eventually disrupts an existing market and value network, displacing established market leading firms, products, and alliances." - Taken from Wikipedia.
2. THEY HAVE THE BEST PRICING
No shit, cost is important. It's easy to look at a software and choice the one with the lowest price without taken into consideration the bigger picture. One thing that really stuck out to us was the cost difference between BigCommerce and Shopify Plus. Although the pricing looks similar on the surface, there is a lot hidden in Shopify's pricing model. With Shopify, you have to pay for a lot of app add-ons. Where as with BigCommerce, these functions are native to the platform.
Some pricing facts:
Average savings per year with BigCommerce over Shopify - $5000 (Yup, worth bolding.)
BigCommerce Merchants outsell Shopify users by

34% on average.

Built-in discounting lets you seamlessly offer promotions to drive sales, while customer groups allow you to wholesale and reward loyal shoppers. You can't get either feature on Shopify without paying for third-party apps.
3. A Platform Made To Scale With You
Scalability has been a big focus of BigCommerce. Starting off small, using the tools in the platform to grow to an Enterprise level. No more are the days of talking to agencies like us to build a small market e-commerce website only to have it re-built in two years because you are seeing growth. It makes business sense for BigCommerce to throw in a lot of tools that other platforms don't. Grow your business online so you need to up your plan with BigCommerce.
The takeaways
BigCommerce's open platform has disrupted the market.
BigCommerce is definitely less expensive than the alternatives.
If you are in the entry level/mid-market e-commerce bracket, their platform makes the most sense for growth. The product will grow with your business instead of the need for a re-build.
Austin is a cool city.
Want to sell online today?
We aren't in Austin Texas everyday, so we had to take in some sights too.