No one likes to admit it. You do what you can to move your business in what you feel is the right direction, but sometimes you lose your focus. We're guilty of this ourselves at ICS.

Whether you're a small business or large business you need to know who you are. Sometimes this can get lost. This isn't usually on purpose, but usually because your suffering from focusing on who you are, what you offer and who you offer your product or services to.
As competitors and the marketplace change, you feel the need to follow suit and do what you have to in order to keep the business fuill steam ahead. So how do you know if you're business is part of the bunch that is suffering from this? Here are 3 signs you could be losing focus.
1. You're Selling Things Just To Make Money.
One of the biggest problems we see businesses do is that they try to offer everything. Trying try to be the expert in everything. Well, you might be an expert in a lot of things, but if you try to be an expert in everything the quality goes down because you are focusing on too many things instead of the few key things you know you kick ass at. For example, at ICS we have a very talented photographer with Mike Capson. Often Mike gets a lot of requests for personal portraits, wedding shoots and family portraits. Now, Mike can do this, but does he offer it? No. You mean you're telling me you get offered for paid work and you don't take it? That's exactly what I mean. Although Mike could do it, it doesn't fit our overall business plan and service. So it's better to use our time for shoots that fit our goals.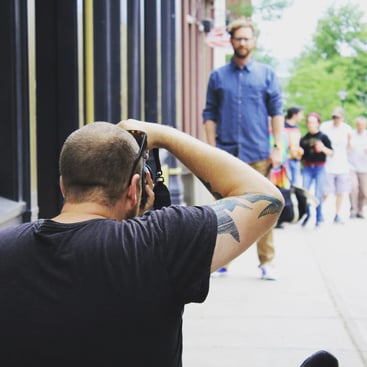 With that being said, I recommend taking the time to write out what it is you do and what you offer. Think of things that you could offer and decide if it fits your overall business model. Once you define what you do and don't offer, stick to it.
2. Your not showing your value to your ideal customer.
You could creat the best content strategy possible. Reach 10's of thousnads of people each day through great marketing but just because you do that, doesn't mean your message is clear. Here's a great way you can find a way to show your businesses value proposition.
We [provide this service/value/outcome] for [this type of company/industry/market] by [using this kind of approach] because [why]
When you play with this a bit you're going to be able to discover what sets you out from the competition. This is the key of your brand messaging and value proposition.
Check out this awesome infographic from QuickSprout on how to write a great value proposition for your business.
3. You aren't keeping up with the times.
The world evolves, people evolve. Your business can't stand still and expect to see the same success it's seen over the years without growing and moving forward. When I say growing and moving forward, I'm not talking about staff size and profit margins. I'm talking about keeping your business strategy on track by staying relevant. Worker smarter, not harder.
You need to make sure you are meeting your customer's needs. The second you do that, you're no longer needed. So keep aware of changes in your customer's buying habits and ensure that you are the answer to fulfill the need they have. Remain focused on your ideal client and you won't lose sight of this.
What did I just read?
So what do you need to take away from this? Simple. Look at your business to ensure you know who you are, what you offer, who your ideal customer is and know the ins and outs on how to keep that customer coming back happy to you and not your competitor.