Nowadays blogs often receive less recognition. Nonetheless, leveraging blogs as a means to engage with your audience and drive increased traffic to your website proves to be a potent strategy for elevating your business.
Crafting informative and valuable content not only diverts a diverse audience to your site but also frequently leads individuals to explore your other social media platforms through your blog.
Below, you'll find a couple of intriguing tidbits drawn from an infographic detailing digital marketing statistics shared by Optimind.
Blogs give sites more indexed pages and more indexed links.
Blogs are 63% more likely to influence purchase decisions than magazines.
Companies that blog more than 15 times per month get 5 times more traffic.
The average content length for a page that ranks in the Top 10 position is 2000 words.
If a post is greater than 1,500 words, it receives 68.1% more tweets and 22.6% more Facebook likes.
Posts with a title length of 10 to 18 words get more likes.
Blogs can be repurposed into your social media strategy, creating more value and content.
Articles with images get 94% more views.
Companies that use infographics grow an average of 12%.

Companies see a

55% increase

in leads from increasing pages from 10 to 15.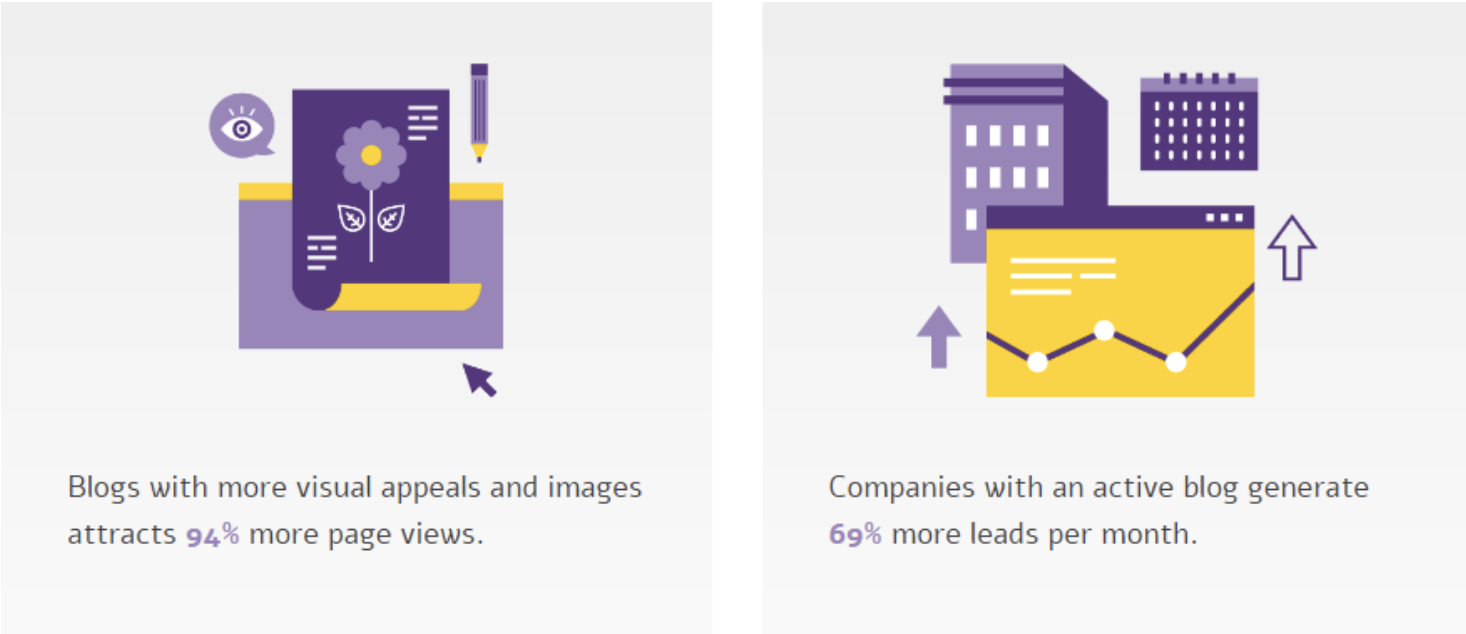 When considering these points listed, how can you integrate them into your current content marketing strategy to yield tangible benefits for your company?
Identify what type of content you will use to engage with your customers.
You might have to try a couple of different topics in the beginning until you can get a feel for what your audience enjoys. Going deep into topics related to your business and products can turn you into a trusted industry expert.
Make your content easy to understand.
We live in the "fast-food" generation where everyone wants quick but effective information. Of course, the type of content and communication must align with your audience. However, adding infographics, pictures, videos, and lists of solid information on the topic - will make your article visually appealing and result in an easy understanding for your audience.
Decide who will be responsible for it.
Designating a specific individual or a team of contributors tasked with content creation ensures the blog remains consistently refreshed with up-to-date information, while also fostering a continuous influx of innovative ideas.
Create a calendar.
Maintaining a content calendar fosters team organization and ensures everyone stays on course. It allows you to schedule the frequency of blog posts, designate responsible team members for specific dates, and compile a list of preselected topics ready for publishing.
Guest Blogging.
Considered one of the best strategies to get a stronger reputation on your website and higher traffic, "guest blogging" is when you write articles for a different company. Ryan Robinson's website goes deeper into this topic and shows you 10 different steps on how to land a guest blog post.
Study your Analytics.
Tracking your analytics helps you to understand if your marketing strategies are working. Google Analytics and social media analytics can provide you with precious insights into what your audience is consuming and help you understand your public platform.
We hope after reading this blog, you feel convinced that these pieces of content should still be a BIG part of your marketing strategies, and if you don't use this tool yet - well, is NEVER too late to start!