Whether you are in sales, marketing or own a business, you likely spend a portion of your day scrolling through your LinkedIn feed to see what news is being shared by the connections you've worked so hard to obtain. If you are active on the platform this means you're likely sharing your own content but similar to Facebook, LinkedIn's algorithm doesn't reach your entire audience. In order to nurture those connections, you need to be able to reach them.
So how do you do that? Read on to learn how to export your LinkedIn contacts with this step by step process.
Step 1: Login. Seems obvious, but just in case!
Step 2. In the right hand corner, click on "Me".
Step 3. Click on "Settings & Privacy".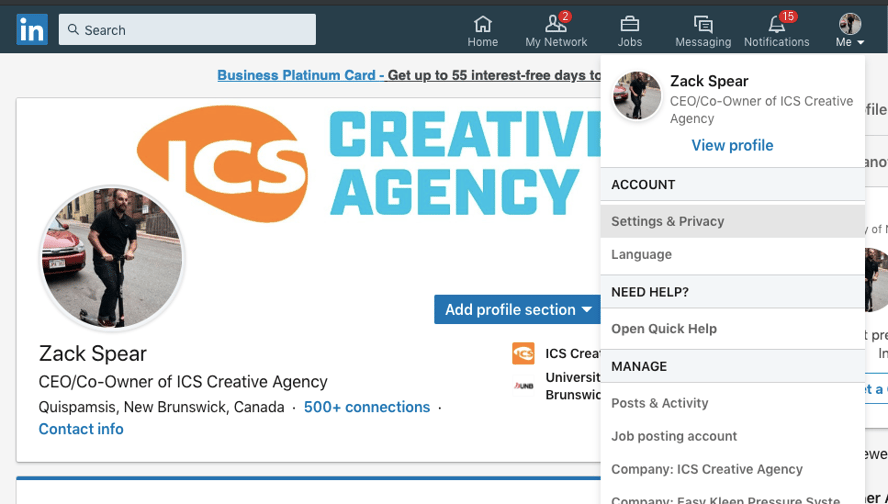 Step 4. Click on "Privacy"


Step 5. On the left hand side, click on "How LinkedIn uses your data" This will move you down the page and then click on "Download your data".

Step 7. Under Pick and choose: "Select the data files you're most interested in" check off "Connections" Then click on "Request Archive"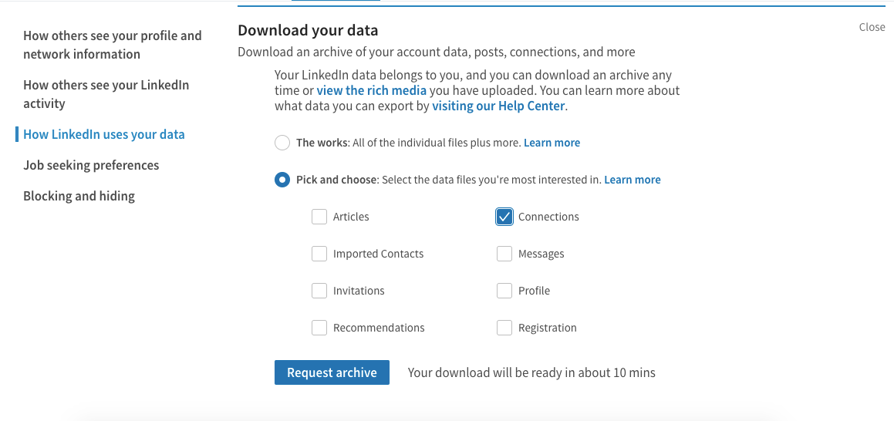 Step 8. To confirm your identity, you'll be asked to enter your password again. After a few minutes, your download will be sent to your email in CSV format.
Okay, I have my Contacts, Now what?


Good question, now that you have your connections emails you can import them into your Gmail easily. This is great for reaching out after you have already connected which can really help nurture your relationship into something even more valuable. Here is how you can do an import.
Step 1. Head to your Gmail account and click on the apps icon in the top right hand corner. (This is the 9 dots)
Step 2. Click on "Contacts".
Step 3. Click on "Import Contacts" and then select the file that you downloaded from LinkedIn. After a quick refresh all of your LinkedIn connections will now be in your Google account!