Instagram is quickly becoming the most popular social media network in the world. With more than 1 billion active users and over 25 million business accounts, the common question is how can you gain more followers?

We are often asked, "How do I find more followers?" Which is often followed up with, "Should I buy followers?"

Let's address that first. Buying followers is something you can do for as little as $10 for a few thousand, but should you do it? No. Never. Buying followers is a quick way to get banned by Instagram if ever discovered. Another reason not to do this is that when buying followers it means that these followers are generally fake accounts, since Instagram shows preference to accounts that provide engagement you won't benefit since fake accounts can't do anything for you.
So how can you get more REAL followers?
Optimize your profile
You don't get a lot of real estate for your profile so make sure to make the most out of it by defining a clear call to action. This can be done with a very precise description with emojis and a link to your most relevant piece of content or website link. Having a unique and eye catching social media image profile is important to stand out from the competition.
POST AT THE RIGHT TIME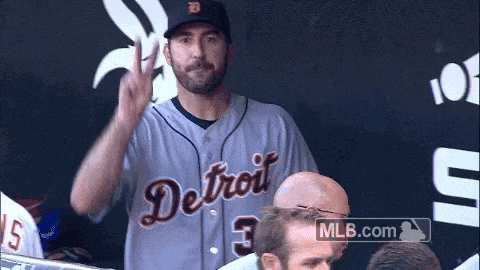 Instagram makes it easy for you to view when your audience is online, use Instagram Insights to learn how. Be sure to use this and do some testing to see how your content performs when you post at a time that you know people are online vs when they aren't. The more engagement you get on a post after just posting it, the more Instagram will show to other users and for longer. If you're just starting out with Instagram, HubSpot states that the best times to post are Mondays and Thursdays from 8am-9am and to always avoid between 3pm-4pm. Posting content outside of work hours seems to get great engagement as well.
Post Consistently
It seems obvious, but a lot of accounts don't post regularly enough to gain more followers. Organic reach on Instagram continues to decline due to the new algorithm. Higher frequency doesn't necessarily mean higher engagement but consistent posting does. If you don't believe me, try it yourself. If you post several times a week and then drop to once a week you should see a drop in followers.
Hang Out On Accounts You Want To Influence
If you have a well defined market and you know who it is, visit those accounts and become active on them. This means posting relative comments to spark awareness and engagement will not only allow those accounts to take notice of you, but also the followers of that account will start to engage with you as well.
Take advantage of User Generated Content
User generated content is our favorite type of content! Using content that another user creates that promotes you is the best form of content. No longer are you forced to sell, sell, sell and prove yourself or product, you now have people doing this for you. Interacting with your audience brings people back to your profile and posts which in turn will drive engagement for Instagram to boost your posts.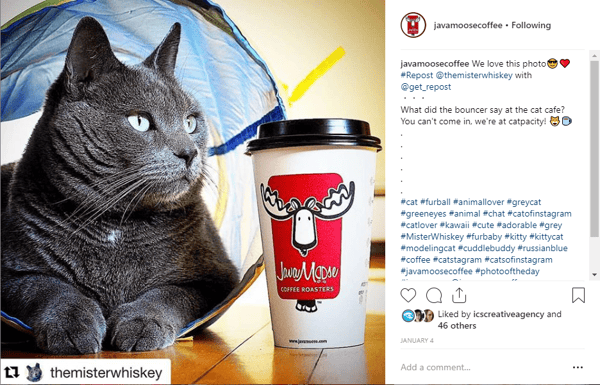 Example of User-Generated Content from @JavaMooseCoffee
Use the right hashtags
Make sure you are using the right hashtags. A good mix of brand hashtags and trending hashtags will bring more eyes to your post. There are tons of different services and websites out there to find the top trending hashtags such as, Top Hashtags or Hashtagify. These sites will allow you to learn and analyze the top performing hashtags related to your industry.
Make sure to take advantage of the geotags if you are a local business or service, this allows people to find you by location through searching for items near them.
Promote Your Account Outside Of Instagram
Promoting your account outside of Instagram is a great way to drive awareness to your profile. You can piggy back off of other networks you already excel at like Facebook, Instagram or Twitter and also add links to your email signature. If you are doing any other forms of marketing like outdoor advertising, include a hashtag to drive awareness.