When it first launched in 2013 Slack made promises of changing the workplace forever. At the time, it seemed pretty ridiculous. A glorified chat software? We all remember MSN Messenger and ICQ so why would this be any different?
Fast forward seven years and Slack is now known as one of the best productivity tools used in the world. So what did Slack do differently that has pushed them ahead to be leaders? Most importantly Slack's tool is so easy to use, that there are no issues with onboarding onto the platform. The learning curve is so minimal that anyone can use it. This has always been their biggest selling feature.

Ease of use generally isn't enough, so how else can Slack create efficiency for your business? Here are just a few ways that Slack can help with your sales enablement, time management and internal process.

Everything is in one spot
Slack allows you to have all of your teams communication in one easy to use platform. This means that there is no more searching emails that might be hard to access, searching your CRM, text messages, Facebook messages or at the very worst reading through staff notebooks.
Slack happens in one spot and allows you to segment topics by creating Channels. Users can be assigned access to channels to keep team members involved. By default there will also be the option to direct message other team members or even invite people outside of your organization to channels to participate in the conversation.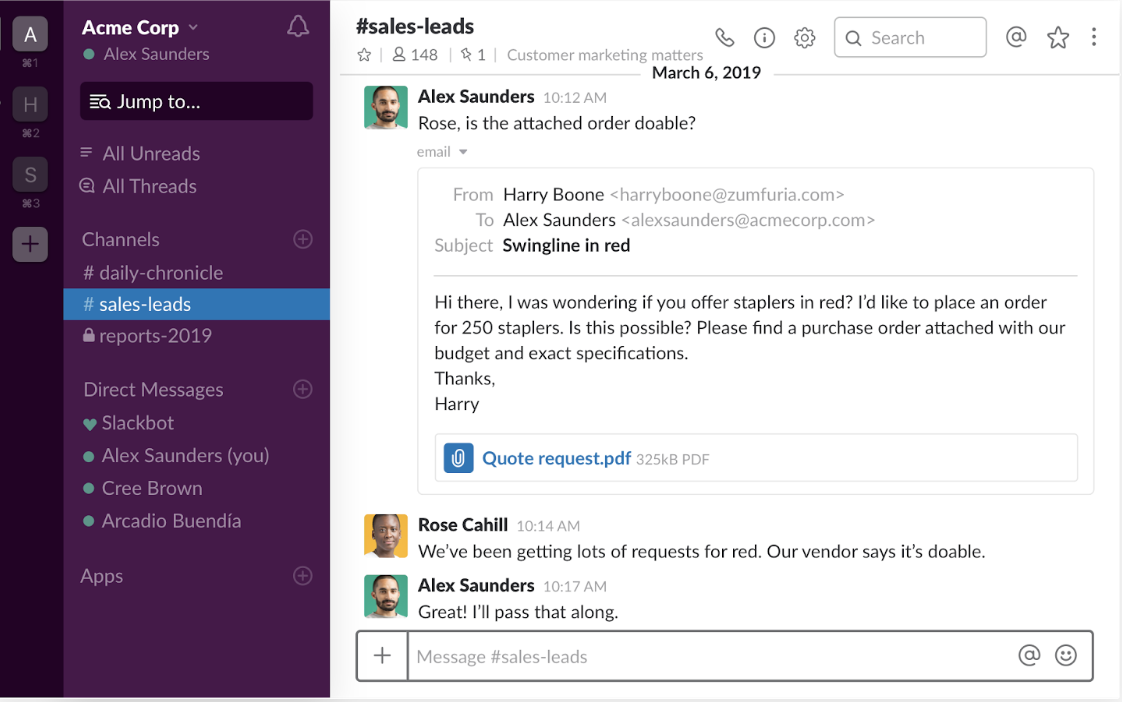 Slack Integrates With Other Services We Use
We use to be very software heavy at ICS but over the years we have been able to scale down and only keep necessary platforms. With Slack we are able to integrate with these other services with their API. This means we can get updates from other platforms directly into Slack.

Clickup - For updates on current projects. We are able to see comments, progress updates and new tasks instantly in Slack.
Google Drive - We can get updates on documents and share instantly in Slack.
BOX - Our file storage system. We can instantly pull files into Slack so we don't need to search through BOX.
Hubspot - We can get updates from our CRM as well as live chats to appear in a dedicated Slack channel.
With that being said there are a ton of integrations that work flawlessly with Slack. Here is a full list of their integration list.

Accessibility
Not only does Slack have a fantastic desktop application or browser app, but they have mobile apps as well. You can almost guarantee when you sign up for a piece of software and download their app that the app's functionality will leave you frustrated. With Slack, there is virtually no lack in function and the ease of use is just as strong.

We have team members who live and work around the world so being able to communicate with them at weird hours of the day or night allows everyone to be in the loop of what's happening.
Affordable!
Slack has four pricing options starting at free. We have been on the standard plan since joining at only $7/user/month. If you have a large team you might think this could be pricey but when you start weighing the efficiency and time saving it provides you soon don't even notice the bill each month.