Instagram stories, highlights, and archives. What is the difference and how can my business use them right now?
Last week we released our tips on how to make your Instagram stories stand out and it was well received, but just a few days later we realized we needed to give more. Instagram is a beast. It can be incredible at times, overwhelming at most but at the end of the day, that is what makes this platform so much fun to use.
As of late December, you are now able to curate some of your best stories and content as "highlights" right on your profile. Brands and businesses are really digging into this to elevate their culture and value by showing off some of their best work and offerings in this section.
Not sure the difference between highlights and archives? Read on!
The Archive
This is a spot you can now save your stories.
The benefit? Instead of this taking up useful space on your phone, you can now save content here. Finding that content is no longer a struggle by going through your phone archives containing more than just Instagramable content. Bravo Instagram, you have my attention.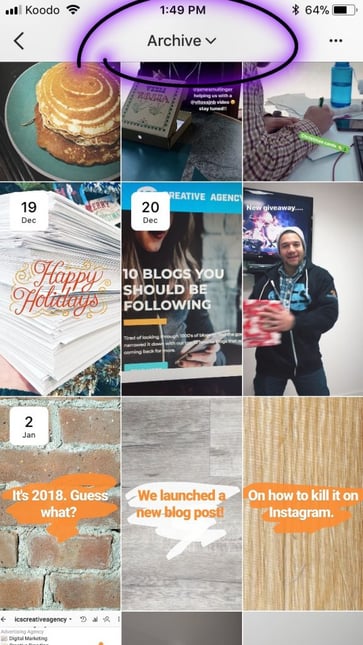 Highlights
A spot you can view saved content that does not expire.
The benefit? This is an instant look at your brand. Visitors can get to know you with a quick overview to see if things are a good fit to keep the relationship going. You can add highlights to your profile from the content in your archive.
Click the + to add new highlight and select which ones you would like to show on your profile. You can choose up to 5.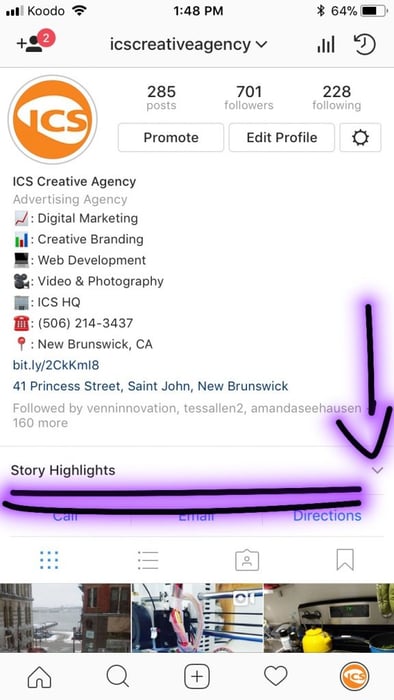 Choose captions and cover titles to help others understand what they are looking at and how that may affect their decision to work with you. Custom images for highlights can be uploaded as well. Example: Silly at the office, What we do, Our work, a day at our office, dogs etc. Think about this as a teaser video or trailer to what you do, why you do the work you do, the culture at work, the fun and the not so fun of work, the sincere things we all can relate to.
How can it be used for your business? Well, that depends on your business but here are three scenarios that might work for you.
Realtors - Highlights can be a section to show current listings stories available. Call this highlight "Active Listings." Create another highlight called, "2018 Solds" this can be a spot to have all of your sold photos from the year.
Retail Stores - Create a highlight called "Blowout Items" and list all of your current items on sale you need to get out of stock to clear up some inventory. Create another highlight called "Brands" and showcase all of the current brands you carry to give people an idea of what you have to offer.
Restaurants - Create a highlight called "Fav Dishes" in there have all of your favorite dishes you are known for so people can get an idea of what food you're offering.
What's next in the pipeline for Instagram?
Instagram has opened discussions about implementing their own re-gram button to make it easier to repost content. Rather than have to use a 3rd party app like Repost. This will make user-generated content much easier to schedule.
Business profiles that are verified, which is a very long and interesting process, are now able to add links with the link button on their stories. This makes it easier for businesses to add content and links directly without the user having to go to the companies bio. Unfortunately, the verification process is a bit of a waiting game and we will just have to wait to see how that roll out in the future. Since there is no actual process only hearsay of what people have said the steps to get verified are, Instagram recommends that by connecting to your to Facebook page and making sure your Facebook page is verified is the best way to let people know you are authentic.
Get started with a Marketing Strategy that will work for your business!