Of course, customer service is important. Being in a client-facing business, the goal is to consistently provide a positive experience, no matter what service you're providing to your client base.
But what does this mean for each team member's role within your business? How can you ensure you're creating this positive experience without a negative impact on your performance, or your bottom line?

First, what is customer-centricity?
"Customer centricity is an approach to doing business that focuses on providing a positive customer experience in order to drive profit and gain competitive advantage."
Leslie Cottenje, Hello Customer (https://bit.ly/36k3NRq)
Yes, the bottom line is important, but there is so much more to a customer-centric approach. The experience you provide should be a part of your values and culture as a company. In order to provide a fluid experience for your client, you must first have educated fluidity and open lines of communication within your team. For example, Alaska Airlines received the top customer service score out of all American airlines in 2019 (https://bit.ly/3AFH00u). Every employee receives an "empowerment toolkit" with vouchers, and different items they can use to anticipate their customer's needs. This, along with extensive training and trust in their employees to independently provide a customer-centric experience gives Alaskan Airlines the advantage, talk about a fantastic sales & marketing strategy! From the get-go, their staff is trained to put customers first, and are provided the tools to collectively do so. As a team, they work to provide a wonderful experience from ticket purchase, to final destination.
How do I create a customer-centric experience for my clients?
Customer-centricity must be a part of your culture and values as a company. That being said, each member of your team must be on the same page no matter what role they play within your business. Beginning a relationship with a client as a team allows for shared targets. The idea that understanding the client and their organization allows for more opportunities to offer client-specific solutions.

At ICS, we take the time to meet with our clients as a team. We get to know who they are, what they do, and what they need from us as an agency. Clients today dictate how brands shape their customer experience, as well as the sales funnel, buying journey, marketing campaigns, etc. Creating a pleasant and personalized experience specific to your client creates brand loyalty, and (hopefully) some of the cheapest advertising out there - word of mouth.

Enter

The Flywheel Model.

This explains the momentum you gain when your team holds the same values, centered around delivering a remarkable customer experience. The momentum you gain by delighting and engaging with the clients you attract turns into referrals, additional opportunities, and so on.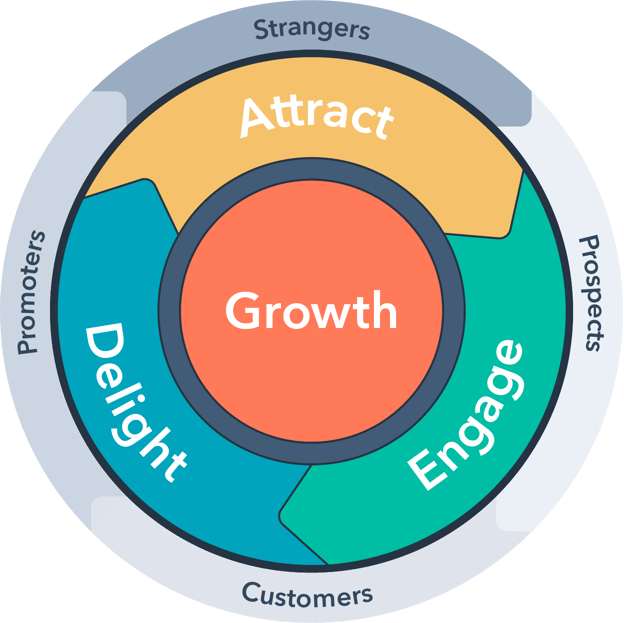 How do I maintain a customer-centric atmosphere?
Ongoing Education
The customer's buying journey is always changing, which means your team must adapt too. Proactively educating yourselves to better understand customer trends, technology, and possible solutions will better equip your team in maintaining a client-forward environment.
Communication
Communication within your organization is just as important as client communication. Maintaining open lines of communication internally creates a better understanding of the client, their goals, and the goals of their project. If the team knows the status of the project, deadlines, and everything in between, they are able to communicate with the client in an educated and timely fashion.
One tool, in particular, has been essential for efficient communication within ICS. Slack is a chat-based program that gives you the opportunity to discuss a project, (with or without the client) in one place. You can share files, revisions, comments, and questions, and project updates in one place. The idea of sifting through dozens of emails, or relying on the relay of crucial pieces of information — is long gone. Read more about how amazing Slack is here.



Client Relationship Management
Is there a tool to maximize your performance here? You betcha! Hubspot is a quintessential CRM tool. I could go on and on about the many benefits of Hubspot, but I won't. You can read about them here though! One of the many features Hubspot has is sequenced automation, meaning you can encourage effortless feedback from your customers. At ICS, one of the pieces of our client communication automation is the post-project survey. Following the project's completion, a survey will be sent out to our clients, and we receive the results. Encouraging feedback from your client base makes them feel heard, and better understood, especially when they only have to fill out one form, sent directly to their email. The easier the process, the higher the likelihood of a response.



The truth is, you're never going to please everyone. You'll come across situations that can't be solved with a positive experience for your customer. These anomalies should never be your focus. Ensuring that everyone is on the same page within your business; to provide a great service, product or experience within each stage of the buying cycle, while fulfilling their customer-centric role within the company, is the ultimate (attainable) goal.